Food Control Labels Instantly
If you handwrite your food rotational or nutrition/grab n' go labels, you are wasting significant time and money that can be better spent on other, more important restaurant or kitchen activities; and time is money, no matter how you "slice it."
The AccuDate™ 9700 Food Labeling System automates the process of food labeling; decreases food waste by printing perfectly legible labels with calculated accuracy; improves customer satisfaction by help ensuring only the freshest ingredients are always served first and increases your bottom line by speeding up a highly labor-intensive process 10 fold – Some customers save up to 2.5 hours every day!
Large, easy to read 8.4" display for quick and easy navigation and menu edits

Real-Time clock to generate reliable "prep and discard by" date and time

Labels are available in many different sizes and styles, layouts and even adhesives. Dissolvable, Repositionable and Permanent. Layouts can even be customized for special use-by needs!

Comes preloaded with your menu and shelf life information; just plug in and start printing

If you serve Grab N Go items, the AccuDate™ 9700 prints nutritional labels that include calorie, allergy and pricing information, including bar codes
Spill and splash resistant so the terminal can be placed anywhere – worry free

Internal power supply for improved dependability and less clutter

Heavy duty print mechanism for unmatched reliability

Quick and easy "drop in" label loading, perfect for the busiest of kitchens

Direct thermal printing uses no ink, so it's less expensive than other printers and doesn't smudge

Multiple inputs, USB port, removable SD card and Ethernet for remote auto FTP or TFTP menu updates
Labels for AccuDate – carefully engineered to fit your business.
Labels are another key part of the AccuDate System. Labels are available in a variety of standard sizes, and with four different types of adhesives. In addition, custom size, and labels preprinted with your restaurant logo and other information, ara available.
Four different types of adhesives
Permanent – Extremely durable, even after dishwashing
Para Freezer Grade – Will not come off in the freezer
Dissolvable – Dissolve in water in thirty seconds or less
Removable – Leaves no residue when removed. Can be reapplied on another surface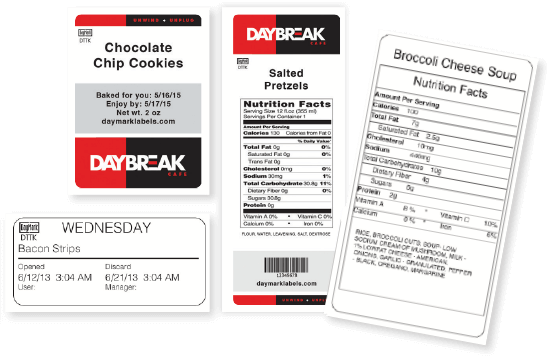 AccuDate screens – customized to your exact needs.
GA's engineers ensures the AccuDate system fits the way you work. We customize the user interface, menu items, shelf-life data and what's printed on the labels, all to suit your requirements.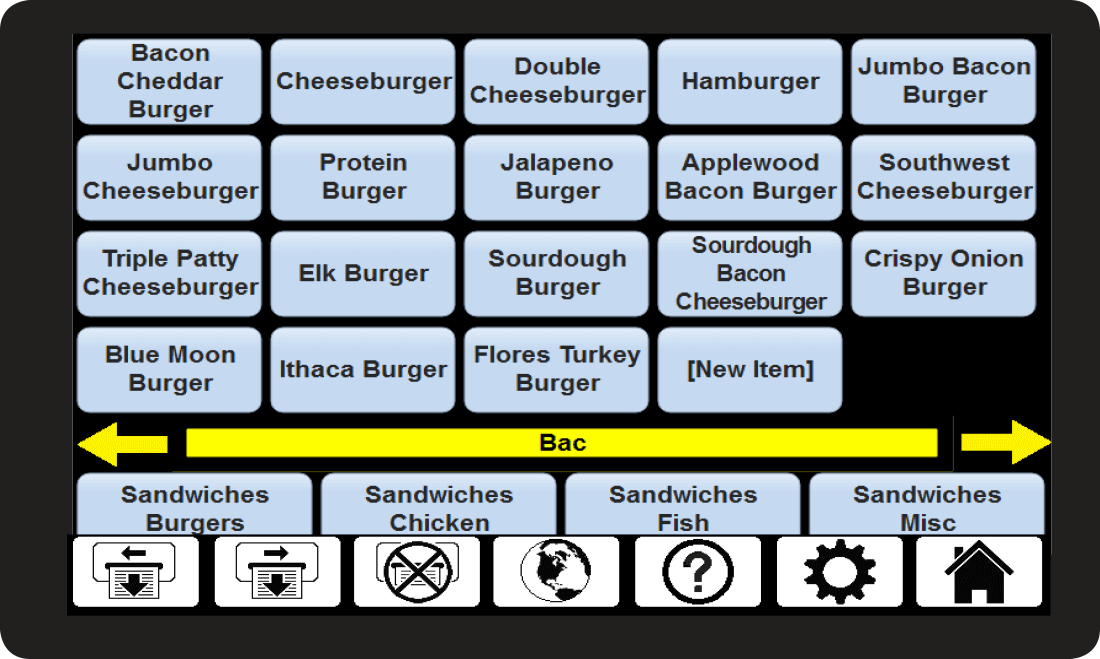 | | |
| --- | --- |
| Touch-Screen Size | 8.4″ |
| Screen Resolution | 7″ LCD with 800 x 470 |
| Audio | 85dB Buzzer |
| Video | No |
| Print Technology | Direct Thermal |
| Print Speed | 4″ per second |
| Built-in Printers | 1 or 2 |
| Internet Connectivity | Ethernet |
| USB Ports | 1x USB 2.0 |
| Built-in Memory | 64 MB |
| Storage | SD Card |
| Menu Updates | USB Drive, TFTP or FTP |
| Wall Mount | Optional |
| Dimensions | 9.1″ x 10.5″ x 8″ |
| Compliance | CE, RoHS |